When we get into the holiday season we begin to think of making candy for our family and friends. I always love to put a little homemade something into gifts. This month at The Crazy Cooking Challenge we are looking for the ultimate fudge. I have been keeping an eye out for a fudge recipe that would be smooth, flavorful and easy. This is the recipe that meets all the requirements for me. I found the fudge at Desi's Steak N Potatoes Kinda Gurl. I am honored to present Desi and her fabulous blog. Desi is a graduate of Xavier University with a major in Psychology. Although she is not presently in that field, her friends tell her that she should have followed a career path in Culinary Arts. I would sure agree with that you can just see her love for cooking when you visit her blog. Desi is a frequent contributor to Full Plate Thursday here at The Country Cottage and is a great cook I sure hope that you will visit her at
Steak N Potatoes Kinda Gurl
Rocky Road Fudge
Rocky Road Fudge
Steak N Potatoes Kinda Curl
Prepared In Miz Helens Kitchen
3 cups milk chocolate chips
1 (14 oz) can sweetened condensed milk
1/4 teaspoon slat
1 cup unsalted peanuts
1 and 1/2 cups mini marshmallows
Line a 8X8 inch baking dish with parchment paper or spray lightly with nonstick cooking spray. In a saucepan, combine chocolate chips, condensed milk, and salt. Heat on low, stirring constantly. Once smooth and completely melted, add peanuts and marshmallows. Stir again until smooth and peanuts and marshmallows are completely coated. Pour and spread into the baking dish. Refrigerate until firm, and slice when ready to serve.
Miz Helen Option:
1 teaspoon instant coffee granules
1 dash of cayenne
mix the coffee and the cayenne with the milk before adding it to the chocolate chips.
This recipe sure meets all of my requirements of smooth, flavorful and easy, it is a sure winner at our Cottage.
Just Look At That Pan Of Fudge
Enjoy!
I am sure glad that you came by to have some Rocky Road Fudge with me today and hope you really enjoy your visit to the Crazy Cooking Challenge. If you are interested in being a part of this group please get all the details here. Your visits are very important to me and I hope you will come back real soon!
Peace and Joy
Miz Helen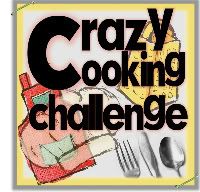 I hope you will check out the other great recipes