When we received our assignment for the
Crazy Cooking Challenge
for this month I thought oh my there are so many wonderful mashed potato recipes out there how in the world will I ever make a decision. After a long search I finally made a decision on these very special Buca Garlic Mashed Potatoes.
Buca Garlic Mashed Potatoes
This great recipe comes from one of my favorite bloggers, Sno White at
Finding Joy In My Kitchen
. This recipe was given to she and her husband Frog Prince as a wedding gift. I can certainly see why it was a gift this is a delicious recipe. Sno White and Frog Prince are great cook's and have a wonderful blog so I sure hope that you will go by and say hi from Miz Helen.
Buca Garlic Mashed Potatoes
Sno White
Prepared In
Miz Helen's Kitchen
2 lbs (8 medium) red skin potatoes, washed (skin, no skin, your choice)
1/4 cup chopped garlic (or minced)
1 teaspoon oregano
1 teaspoon salt
1 cup Romano Cheese
1/2 cup butter, softened (or use 2 tablespoons milk)
Wash potatoes and put in a large kettle, cover with cold water and cook potatoes over medium heat until they come to a full boil.
Reduce heat to low, cover and continue cooking until potatoes are very soft
Menawhile, shop the garlic into small pieces. Alternatively, mince
Transfer potatoes to a large mixing bowl
Add garlic, oregano, salt, cheese and butter ( or milk)
With a potato masher (or mixer), mash until all ingredients are mixed together.
Garnish with additional cheese and parsley
Serves 8
Miz Helen's Additions and tips
My red skin potatoes were from my garden and they were a little smaller so I used more potatoes
I added 1/2 teaspoon black pepper to the season
I drained the water from the kettle and mashed the potatoes in the cooking kettle, then added the butter and seasons.
Start With Red Skin Potato, I Left The Skin On
Season and Mash
Enjoy!
This is a very simple recipe but one that is so delicious and we will be using it over and over again. This post is a part of the Crazy Cooking Challenge. If you would like to join in the fun with us please check out the details
HERE
. Thank you so much for stopping by today to sample these wonderful mashed potatoes. Hope you will come back to see us real soon!
Peace and Joy
Miz Helen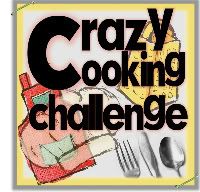 To see other wonderful recipes for Mashed Potatoes please visit these great blogs!